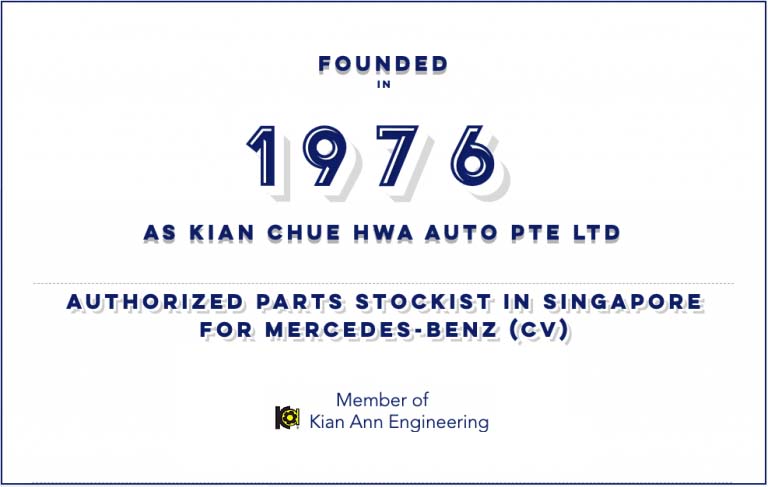 Since 1976, Our Team Has Succeeded In Understanding The Needs Of The Industry And Sourcing Reliable Parts To Serve You.
Our success is based upon its  innovative solutions, reliable network and a dynamic team.  Today, Kian Chue Hwa (Industries) Pte Ltd bring more than 80 international brands like Wabco, Bosch, ZF, Dayco and many more to our customers. With our in-house system and wide range of products, the flexibility and robustness is ensured with its strategic brand partners to provide premium spare parts and excellent customer service.
Numbers Speak For Themselves
Subsidiaries And Branches
International Brands And Counting
Quality Comes First! We Make Sure That Every Minute Detail Is Looked Into From Sourcing To Delivering Right Up To Your Doorstep. Our Focus Is 100% On Your Needs And Satisfaction.
With more than 260,000 sqft of warehousing space in Singapore, we are able to store and deliver parts at one place.
This is made possible with our efficient racking system and Kardex Remstar system. 
Combine with our revamped proprietary inventory management system that allows for optimal stock management with real time monitoring. 
This makes the entire process seamless and enhances the overall productivity.
Our extensive network covers 35 countries including Southeast Asia, Central Asia, China, Australia, New Zealand, Europe, Russia, the Middle East, Africa, Papua New Guinea, the Solomon Islands, North and South America and beyond.
We understand that safety is important to any driver on road. That is why, we only carry and distribute high-quality brand products such as Mercedes-Benz, Volvo, Scania, MAN, Iveco, and many others.
We are the "The trusted name in Commercial and Industrial Vehicle Parts".
With Our Strategic Network, We Have The Capabilities To Deliver From Multiple Locations
Kian Chue Hwa (Industries) Pte Ltd Timeline
Loy Soo Chew
Group Managing Director
Ivan Lin
Managing Director
Ling Kah Lock
Executive Director
Edmund Ng
Head Of Sales
Gary Tim
Senior Manager
(Operations/Accounting)